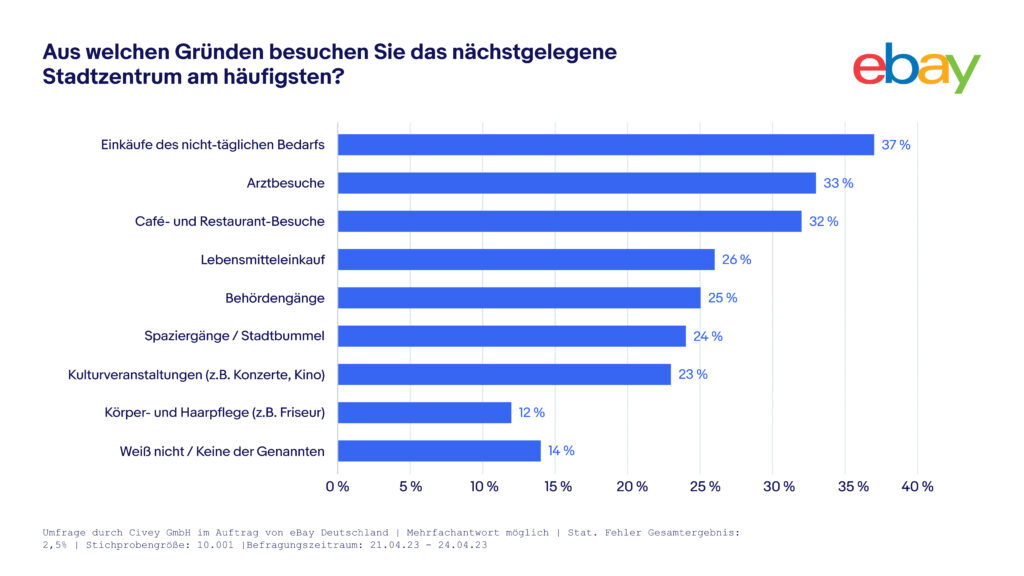 The "eBay Deine Stadt" initiative paves the way for local retailers to do online business and thus contributes to the attractiveness of Germany's inner cities. Current figures show the success of this initiative launched two years ago by the German Retail Association (HDE) and eBay. In the last 12 months, more than 3,000 dealers have registered as part of "eBay Deine Stadt" or reactivated an eBay shop that had been inactive in the meantime. A total of 30 cities and regions have already opened their own local online marketplace since the initiative started in spring 2021 with 10 cities and regions. On these now 40 local online marketplaces, visitors will find over 25 million items from thousands of participating retailers.
A great advantage of the initiative for local trade is that the offers are not only available on the local platforms, but also on the national eBay marketplace ( www.ebay.de ). This gives traders the opportunity to use eBay to sell their products to millions of people throughout Germany and beyond. eBay also makes it easier for retailers who are new to eBay to get started with online trading through the "eBay Durchstarter" program. In the first three months you pay no sales commission and benefit from a four-month consultation phase.
Jens Große-Kreul from Schuh Grosse-Kreul in Gladbeck is one of the many participating dealers from "eBay Dein Stadt". With his family business, he combines the advantages of stationary retail with additional online channels. He explains: "We are already in the second generation selling high-quality shoes at fair prices in Gladbeck's pedestrian zone. With the change in trade to e-commerce, we have also used the additional distribution channel and offer our goods online. This also has advantages for our shop, because the additional sales opportunities allow us to offer a larger selection locally."
Andreas Häntsch, Senior Director Seller Engagement at eBay Germany, is pleased with the positive development of "eBay Dein Stadt" and is convinced that the initiative is making an important contribution to the preservation of German inner-city retail. At the same time, he emphasizes that "eBay your city" can only be one of many measures to make local businesses crisis-proof. That's why eBay is constantly working to promote open exchange between retailers, politicians and urban planners.
A current representative online survey, carried out by the opinion research institute Civey on behalf of eBay Germany, illustrates the importance of diverse trade for German inner cities. According to the survey, shopping sprees and buying non-daily items are the most important reasons for visiting the city (together 61 percent), before doctor appointments (33 percent) or visiting cafés and restaurants (32 percent).
At the same time, many consumers are aware of the increasing number of closures of small and medium-sized retailers in German inner cities. A larger selection of shops is already the most commonly mentioned wish (40 percent) for a more attractive inner city. Better accessibility of the city centers by car (29 percent) and a wider range of cafes and restaurants (27 percent) only come in second and third place. In addition, around half of Germans (46 percent) would like a larger selection of products when shopping in the city center for non-daily items, such as clothing.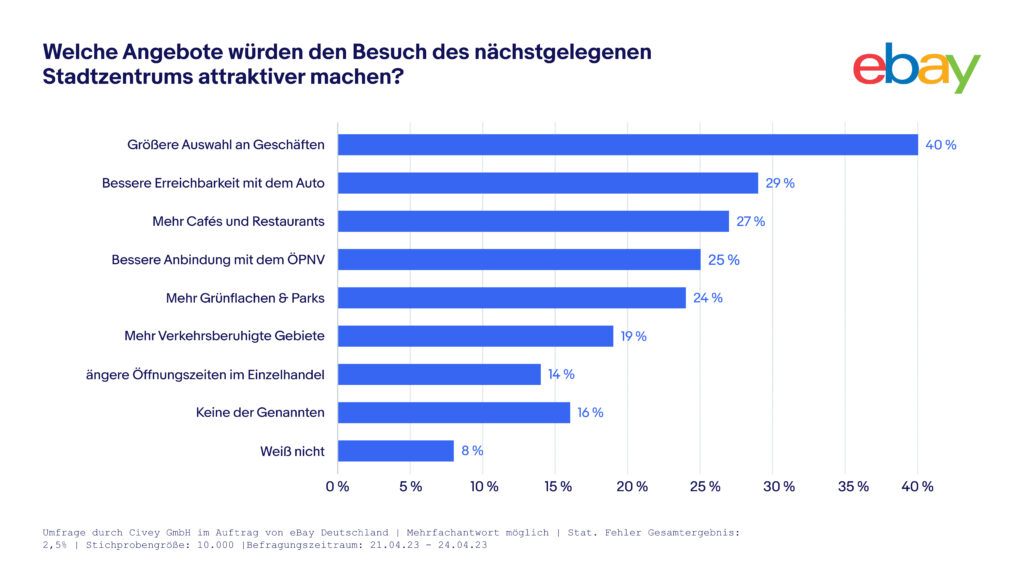 Prof. Dr. Gerrit Heinemann , head of the eWeb Research Center at the Niederrhein University of Applied Sciences, emphasizes that shops are dying in Germany. He calls on local authorities and politicians to create the right conditions for a trend reversal. In addition to smart decisions regarding traffic and urban planning, brick-and-mortar retail needs additional sales channels and a stronger digital presence in view of the declining frequency . At the same time, he emphasizes that retailers who are well positioned online can bring an attractive range of goods to city centers. Initiatives such as "eBay your city" are therefore urgently welcomed with regard to the development of city centers.
Source: eBay Deine Stadt – Newsroom