Mark Steier and I separated in July 2022. By the end of
November 2022, I also assumed a peaceful separation. Unfortunately, this doesn't seem to be possible with Mark Steier. On November 22nd, 2022 I found out that Mark Steier had overwritten the domain "wortfilter.de". A domain that was registered to me and can only be transferred with a so-called auth code. So I should have given my consent with this auth code, which I never gave. This was only possible because Mark Steier also had admin access to administer the domain "wortfilter.de". This is how he acquired the domain "wortfilter.de". After contacting the hoster in order to be able to reverse the process, I was then informed that Mark Steier had already registered as a domain owner in March 2021 - more than a year before the separation. As can now be assumed afterwards: Quite obviously, in order to save the costs of a further warning, because Mark has indemnified me from any claims by third parties. So if a warning fluttered in, which was not necessarily uncommon, Mark took care of it alone and often had to pay twice: for himself and for me as the domain owner. Of course, he saves these double costs. And since I already know what Mark Steier is answering now: " You knew that because some lawyer had already presented it in some procedure. " No, I didn't know.
As if that wasn't enough, I was notified of an application
for cancellation of the trademark "Wortfilter" at the DPMA. An "offer" was made to me as compensation: "Wortfilter" will be bought for a monthly amount of €850 over 5 years. He writes that he didn't have to make me an offer at all because the brand was ready for cancellation. Legal steps have now been taken which will gradually lead to a clarification. All private things
don't belong here, but anyone who knows Mark Steier can guess that it is essential to explain things to the readers at this point. Incidentally, Mark has now registered the Wortfilter trademark himself. You already know: the mark that is due for deletion.
Incidentally, after the separation, he had already changed the imprint, which stated that "all income" should benefit Felix. Suddenly there was only "part of the income".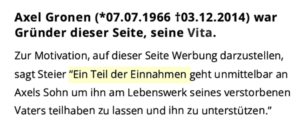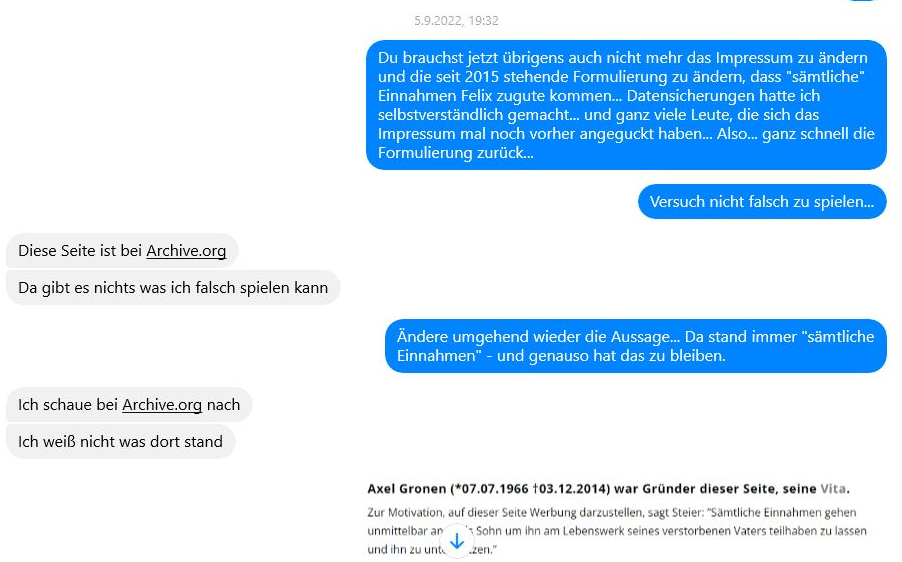 Mark earns several thousand euros a month just from the advertising revenue - and bills it to his accounts. Anyway, arriving here doesn't do anything...
But this time you made the calculation wrong, Mark Steuer: You neither take Wortfilter from me, nor do you get me down. Never forget: I am a mother and I fight!
Everything else follows the legal channels I prefer.
PS: As a precaution, I make it clear that in case of doubt everything written above is my opinion. Not that I'll be a victim of any of your lawyers (if there are any left). The rest: in court!